how & where to position your heating oil tank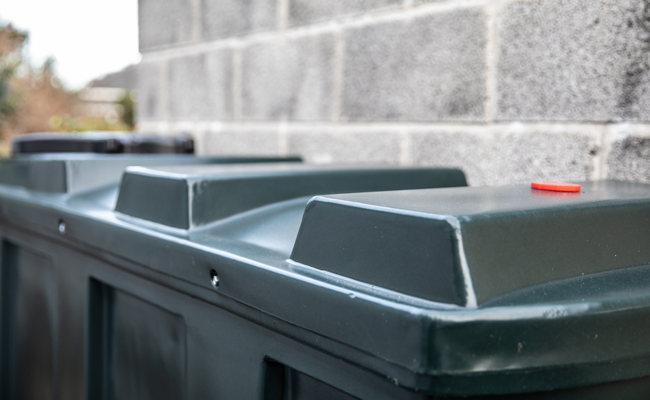 Whether you're replacing an existing heating oil tank, or planning a new installation, deciding how and where the tank will be positioned on your property is an essential part of the process.

It's important to consider any applicable regulations, as well as how the tank will be used practically in order to identify the best place to locate and install your tank.

Browse Heating Oil Tanks
Factors That Impact Where To Place Your Oil Tank
When it comes to selecting the ideal location for your new heating oil tank, there are several factors to consider.

First and foremost, itís essential to follow all applicable regulations regarding fuel storage on your property. Next, think about access. If your tank is located in a difficult-to-reach spot, it may be hard to perform regular maintenance, or to refuel the tank.

Consider how the tank will integrate with your home's heating system. You'll need to make sure that your tank is close enough to your boiler to ensure a good flow of oil.

Itís also worth thinking about the visual impact of the tank. You may want to hide the tank from view, or install it in an unobtrusive spot. Finally, consider the security of the tank.

Letís look at each of these factors in more detail.

Oil Tank Regulations
In the UK, there are a range of oil tank regulations that apply to both the type of tank that youíll need to use, and where it can be positioned on your property.

If your tank has a capacity of over 2500 litres then it must be bunded. A bunded heating oil tank must also be used if it is to be sited within 10 metres of coastal waters or fresh inland water such as lakes or streams, or within 50 metres of a well, spring or other drinking water source.

If spills could potentially run off into open drains or water sources, then the tank will also need to be bunded. Another regulation requiring a bunded tank to be used is if the vents cannot be clearly seen while the tank is being filled, such as if the tank is positioned somewhere that is further away from where tankers would park to refill it.

Tanks must not be positioned within 1.8 metres of any structures that are not fire rated such as sheds. They must be over 760mm from the boundary of your property where not fire rated materials are used, such as a wooden fence, and 600mm away from any screens used within the boundary of your property.

Tanks can be positioned within a building, however regulations dictate that the tank must be at least 1.8 metres away from non fire rated eaves, openings such as doors or windows, and appliance flue terminals. It may also be necessary to use a fire rated oil tank if positioned within a building.

Keeping Your Oil Tank Secure
The security of your heating oil is another important thing to think about when deciding where to position your tank. Fuel theft is a growing issue, and can negatively impact homeowners in a number of ways.

Make sure that the tank is located in a secure spot, and that the lid is locked when not in use. If you were not already planning to use a bunded tank, then you might want to do so because of the enhanced security that bunded tanks provide, being more difficult for thieves to drill through.

You may want to consider using a security system, such as CCTV, to monitor the area around the tank. If the tank is visible from the street, you may also want to install a security light to deter potential thieves. You should make sure that the tank is properly grounded and that all connections to the tank are secure.

Oil Tank Access Points
Access is an important factor when positioning your oil tank. Ideally, the tank should be located in an accessible spot, so that it can be serviced and refuelled with ease.

Consider how often you will need to access the tank, and look for an open spot that has enough room for a delivery tanker to approach. Ideally the dispensing hose will be able to take as short a route as possible to reach the tank.

Most suppliers will not be able to put a hose through your house, for example, so think about positions that are within reach of an external boundary to your property.

Access is also important when it comes to the initial installation and thinking about the need to replace the tank in the future. Make sure there is enough space to manoeuvre the delivery truck around, and that the area is easy to reach.

If the tank is to be installed in a difficult-to-reach area, you may need to use additional equipment, such as a crane, to access it. The price of this additional equipment should be factored into the cost of installation and maintenance.

Visual Impact Of The Oil Tank
The visual impact of your oil tank can be an important factor when deciding where to position it. You may want to hide the tank from view, or install it in an unobtrusive spot. If you plan to spend time outdoors, such as in your garden, then you may not want to position the tank in the centre of your patio area, for example.

If the tank is visible from the street or from your neighboursí properties, it can be an eyesore. Consider using a mesh screen or trellis to hide the tank, or locate it in an area that is not visible from the street.

If space is at a premium, or you simply want to minimise the visual impact of your tank as much as possible, then you might want to consider a slimline bunded oil tank. This type of tank is designed to be space efficient, and can more easily fit into smaller spaces on your property, as well as being easier to conceal with planting or screens.

Make sure that the tank is not located in an area where it could be a hazard. For example, donít position the tank near an outdoor dining or seating area if possible. With careful consideration, you can find a spot that is both practical and aesthetically pleasing.

Integration With Home Heating Systems
Integrating your oil tank with your home's heating system is essential to ensure an adequate supply of oil. When positioning the tank, make sure that it is close enough to your boiler and heating system to guarantee a good flow of oil.

This means that the tank should be as close as possible to the boiler, but without being too close that it conflicts with regulations. If the tank is too close, the heat from the boiler could also cause the oil to evaporate, reducing the amount of oil in the tank.

Additionally, you'll need to make sure that there is enough space to connect the tank to the boiler, and to the oil supply line for deliveries. Positioning the tank too far away from your heating system can negatively impact its ability to work efficiently, however your heating engineer will be able to help ensure that your tank and system are configured correctly.

How To Disguise An Oil Tank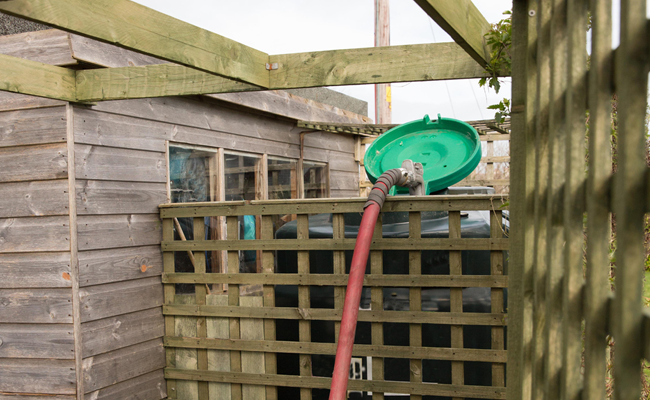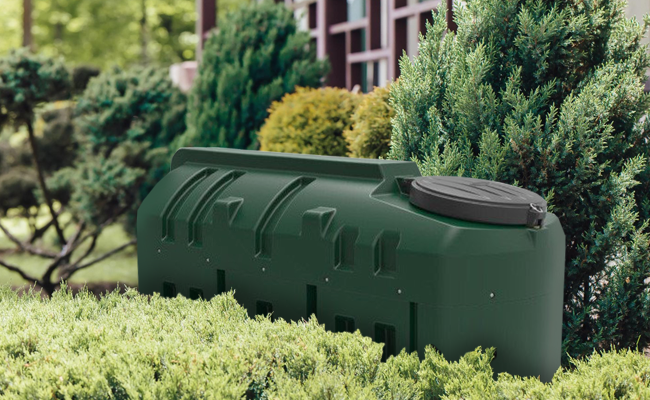 If you want to disguise an oil tank, whether for aesthetic or security reasons, there are several options available.

You could surround the tank with a mesh screen or trellis, or you could could build a fence or wall around the tank. This will not only hide the tank from view, but will also provide an extra layer of security.

Planting can also be a great natural way to hide an oil tank; think about large shrubs or climbing plants that you can use in combination with a trellis. Whichever option you use, itís important to leave a space of at least 600mm between the tank and any form of screening.

You could also paint the tank in a colour that blends in with its surroundings. This will help to reduce the visual impact of the tank, and make it less eye-catching. No matter which option you choose, make sure that the tank is still easily accessible for maintenance and refuelling.

Positioning Your Oil Tank - FAQs

Do you need planning permission to move an oil tank?
‍For the majority of homes, planning permission is not required when putting in a domestic heating oil tank. However, it is important that your installation complies with building regulations and conforms to OFTEC guidelines.


How far should an oil tank be from the house?
Oil tanks are required to be a minimum of 1.8 metres away from your house.


Can I put an oil tank next to a fence?
The regulations for oil tanks differ between regions, but it is a general rule of thumb that a tank should not be placed within 760mm of a fence.


Where should I put my oil tank in my garden?
The best place to put an oil tank in your garden is in a flat, open area that is away from any buildings, trees, or shrubs. It should also be away from any high-traffic areas and should be close to the oil tank's connection point. Additionally, the area should be well-drained and have a solid, level surface.

Browse Heating Oil Tanks
Sign up to our newsletter
for latest new and offers
Get In Touch
Call +44 (0) 1748 835276
Unit 19-20, Northfield Way, Newton Aycliffe, County Durham, DL5 6EJ
Copyright © 2023 Northern Tank Store